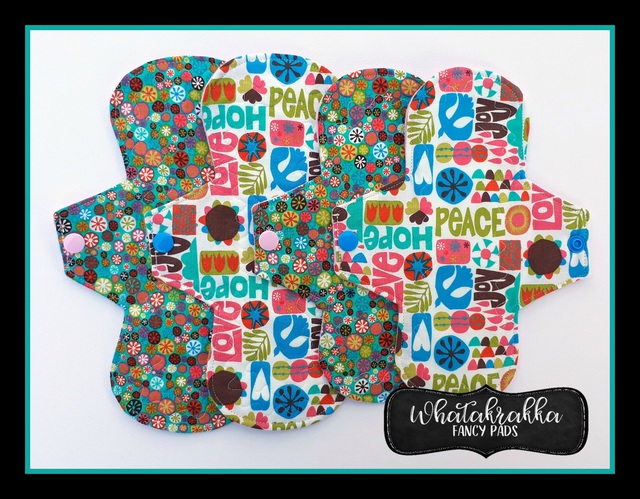 Use Over Time
Fading and pilling of the fabric over time is normal and not a defect. If your bodily fluids stain your pad, that is not considered a defect. ​
Some women find they stain or even bleach certain colours more than others. Some don't stain at all.
Everyone's bodily fluid is different and I can not tell you which colours will suit you best. Unfortunately it is a trial and error thing.
If your pad stains it is not considered a fault of the pad.
Returns Policy
Due to the intimate nature of my pads, they can not be returned so please read the mesurements and choose carefully.
In the unlikely event any of the products you buy off me is faulty I will fix or replace it for you. As long as you have used the product properly and have followed my washing instructions. The item will need to be returned to me via tracked courier. I will reimburse the cost of the courier at a cost of $5.
Privacy
The privacy of your customer data, orders and credit cards are important to us. We will not disclose or sell your customer data to any third party. We will only send you email newsletters if you subscribe to them.
Postage
I will process your order within 3 business days following payment in cleared funds. Payment by online banking cannot be checked until the next business day. We will send you an email notifying you when your order has been shipped. Please allow up to 5 days for delivery.
I use CourierPost to send my parcels which is tracked.
In an effort to save paper, I do not have a printer at home. For the time being plastic CourierPost bags as the best option for me to send your items as I can write on them at home and have them picked up from my home. I realise that plastic is no ideal but for now, that is my only option.
You can search on this website, to see if there is a soft plastics recycling option close to you .
https://www.recycling.kiwi.nz/solutions/soft-plastics/store-locator

If you buy toothbrushes they will be wrapped in bubble wrap that I have received in parcels, tissue paper I have received in parcels or pages from Ezibuy magazines. I am trying really hard to be as eco-friendly as I can.
Due to FDA rules and regulations I am unable to send pads to The USA.
I am happy to send overseas. The website is not set up for this. You will need to send me an email and tell me how many pads you would like and where you live. I will then work out the price for you. Due to hearing lots of horror stories of parcels not arriving, I will only be using tracked international postage for international orders. Unfortunately this can be a bit expensive.
Snaps
From time to time snaps need to be re-snapped or replaced. I am happy to do this for you (on pads that I have made).
Send me a message and then the pad and I will pay the return postage.
​If you have any problems or questions, please send me an email and I will help you.